The ultimate post-training recovery smoothie
Recover faster. Come back stronger.
One of the most overlooked aspects of training is recovery. Without proper recovery, your body can respond poorly to future training, make less progress in a given training session, and break down with injuries. A combination of good sleep, a clean diet, and active recovery are best, but one easy way to boost your recovery involves what you consume immediately after training.
This is why I wanted to share with you a quick, simple recovery smoothie. When consumed within 30 minutes of training, it will increase your recovery and decrease soreness. Check out the recipe below!
Post-training recovery smoothie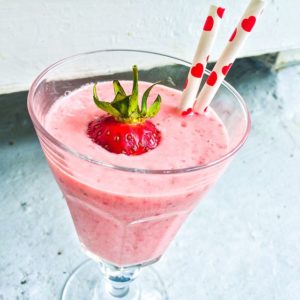 8-9 frozen strawberries
1/2- to 3/4 cup plain unsweetened kefir (or dairy-free kefir)
1/2 to 3/4 cup 2% milk (or almond milk, oat milk, etc.)
5 grams (2 teaspoons) creatine monohydrate powder
1/8-1/4 teaspoon branch chain amino acids (BCAAs)
1/4 teaspoon L-Glutamine
(Optional) 1 small scoop of vanilla protein powder
Combine all ingredients and blend until smooth. Be sure to drink within a half hour of completing your workout. Also be sure to follow up with a high protein meal within two hours. For our vegetarian and vegan friends, you can go with dairy free kefir and a milk alternative, as well as use a plant-based protein powder.
Creatine, L-glutamine, and BCAAs can be bought in bulk very cheap. I recommend a company called Bulk Supplements, they're high quality and extremely affordable.
Pick up their creatine HERE
Pick up their branch chain amino acids HERE
Pick up their L-Glutamine HERE
** Many people prefer to take branch chain amino acids pre-workout. I include them in this smoothie simply because it is easier for me to get everything I need into one smoothie rather than taking multiple supplements at multiple times before and after the workout).
***Always consult your physician before taking any supplement to be sure they're right for you. This post should not be construed as medical advice.
Interested in giving Brazilian Jiu-Jitsu a try? Click here to get started!