Get in shape and Harness your physical potential!
Our Adults Brazilian Jiu-Jitsu program is structured to help you thrive! Download our no-sweat starter kit for access to exclusive pricing and info!
Are you dealing with any of these troubles?
Do you want to lose weight and tone muscles?
Do you want to feel prepared to defend yourself?
Do you want to develop more self confidence and pride?
Are you looking to reach your full potential?
DISCOVER YOUR PASSION.
Braziian Jiu-Jitsu is not just a martial art. It's also an incredibly engaging sport offering an amazing opportunity to connect with other people and get in shape! We'll teach you to use leverage, position, and timing to overcome a deficit in size and strength. You'll make new friends and develop a new sense of self-confidence and pride!
Download our starter kit for access to exclusive deals and pricing
REDUCE STRESS
Training will eliminate negative energy and replace it with feelings of well-being!
JOIN A COMMUNITY
Make new friends in our supportive team!
Learn SElf DefensE
Learn effective self-defense that works on larger and stronger attackers.
Get Fit. Really fIt.
Develop your physical potential and build amazing cardiovascular conditioning!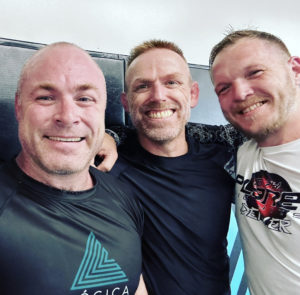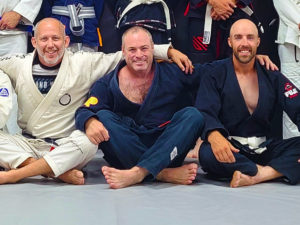 WHY YOU'LL LOVE TRAINING WITH US
We believe in structure. Just as a university course has a syllabus, our program works on an organized curriculum designed to lower the barriers to starting Brazilian Jiu-Jitsu for adults.
Our family-friendly community of other grapplers will support you and help you grow as you develop real grappling and self-defense skills step by step. You'll establish incredible friendships and develop an amazing new sense of self-confidence.
Our passion is helping beginners, this is the perfect place for you to start you jiu-jitsu journey!
FAQ
Do I need to be in shape to start?
Not at all! Our program is designed to help you get in shape in a short amount of time while having fun!
WILL JIU-JITSU CAUSE ME TO GET INJUREd?
Because we place such a huge focus on safety and injury prevention, injuries are very few and far between with our program. In fact, because jiu-jitsu gets you in great shape and makes you strong and flexible, people often see fewer injuries in their lives as a result of training!
Will I get beat up my first class?
Absolutely not! Our program is designed to help beginners build skills prior to full live training, meaning you'll never be thrown in over your head or asked to do anything beyond your capabilities!
More Confidence. Shed Weight.
Download our FREE starter kit today
Download and get access to our starter kit, which includes details on our program, which program is right for you, pricing, schedules, a tour of our academy, and special promotions!