4 unseen benefits of training Brazilian Jiu-Jitsu
So much more than a workout.
Summary
Strategic mindset
Conflict resolution
Emotional control and resilience
Self confidence and self actualization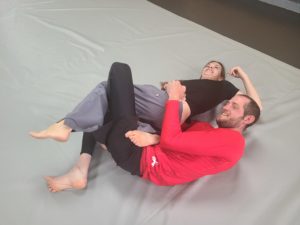 When considering whether or not to start Brazilian Jiu-Jitsu training, many people often focus on the physical benefits. And there are many physical benefits, such as losing weight, getting toned, building agility, and developing core strength.
But there are also a host of benefits from training that may not be visible at first glance. I like to call these the unseen benefits of Brazilian Jiu-Jitsu training. And this is where jiu-jitsu will truly change your life! Here are four unseen benefits of training Brazilian Jiu-Jitsu that you may not have considered before.
STRATEGIC MINDSET
One of the greatest skills that training jiu-jitsu develops is strategic thinking. During a "roll" (sparring round), you must constantly make decisions that have immediate consequences, and do so while under pressure from your opponent. A wrong move can mean having to surrender, or "tap."
Over time you develop the ability to outmaneuver your opponent by outthinking them strategically. This skill of problem solving under pressure transfers amazingly well into life off the mats. Maybe it's setting up that big promotion at work you've always dreamed of. Or maybe it's maneuvering to get what you want out of a negotiation. Whatever the task, Brazilian Jiu-Jitsu will improve your strategic thinking and make you better.
CONFLICT RESOLUTION
Brazilian Jiu-Jitsu teaches you to stay calm no matter how intense the surrounding chaos may be. In a roll, not only is the practitioner forced to make split-second decisions, they must also stay calm and conserve energy so that they don't get tired.
This calmness also transfers well off the mats. Verbal jiu-jitsu, as it is often referred to, is the art of using words to resolve conflict in a way that is beneficial for both parties involved. This means whether you are in a disagreement with your spouse or your boss, jiu-jitsu will teach you how to stay calm and maneuver not just for what you want from the disagreement, but also help the other person get what they want from the disagreement as well.
EMOTIONAL CONTROL AND RESILIANCE
As mentioned, Brazilian Jiu-Jitsu requires you to stay calm under pressure and make effective decisions on the fly. In a roll or match, there is perhaps nothing more disastrous than losing control of your emotions. Bad things happen when you react in anger or with too much aggression.
The same is true in life off the mats. Reacting with anger and aggression often only serves to make things worse. Brazilian Jiu-Jitsu teaches you to control your emotions at all times, and to see problems as opportunities to innovate new solutions. It keeps you calm under conflict, and thus allows you to think clearly in situations where you might otherwise let your emotions to get the best of you.
SELF-CONFIDENCE AND SELF-ACTUALIZATION
Training Brazilian Jiu-Jitsu allows you to confront shortcomings and transform them into strengths. By exposing you to controlled conflict day in and day out, jiu-jitsu shows you how you will react under stress. This process builds an amazing sense of self-confidence and self-respect, as well as respect for others.
Learning jiu-jitsu naturally teaches you how to learn something difficult, making you more effective at achieving your goals off the mat.
More unseen benefits of training Brazilian Jiu-Jitsu
There are countless other unseen benefits to training Brazilian Jiu-Jitsu. Self-expression, self-mastery, community, collaboration. Whatever your goals are in training, Brazilian Jiu-Jitsu will transform you in unexpected ways.
If you're in the Chattanooga area and interested in giving jiu-jitsu a try, contact us for more information!